Five Iron Golf is expanding in Michigan in a big way.
The New York-based "eatertainment" property on Wednesday opened its first Detroit location in a 24,000-square-foot space in the lower level of the new Cambria Hotel Downtown Detroit at 600 W. Lafayette St. The 154-room hotel opened in May in the former Walker-Roehrig Building.
It's the 6-year-old company's 20th location. The Detroit Five Iron Golf follows a Shelby Township location that opened in a 6,000-square-foot space in August. Troy-based Koucar Management serves as the landlord for both spaces.
"This is our largest location of all the Five Iron's we've opened," Five Iron Golf regional manager Brendan Heckler said. "Koucar played a big part in us getting the space while the Cambria was being developed. It's a great space. We've put a lot of thought into it."
Five Iron, with a capacity for 218 guests, makes great use of all of the space. Each bay has room for six players and includes a couch and flat-screen TV for viewing.
The centerpiece is the 13 TrackMan golf simulators, which feature multiple high-speed cameras that capture every angle of each golf swing to help players improve. Golfers can choose any of around 200 courses to play, including nine courses in Michigan. The simulator also has picture-in-picture capability, with a small TV screen in the top right corner.
Five Iron has 60 full sets of 2023 Callaway men's and women's clubs available to use, according to senior golf pro Jeremy Hayward, though players can bring their own clubs. There are also two putting areas on opposite sides of the building.
The simulators are available for $55 an hour at off-peak times to $70 an hour during peak times. Off-peak times are 6 a.m.-4 p.m. daily, with peak hours beginning at 4 p.m. Five Iron Golf Detroit operates 6 a.m.-11 p.m. Monday-Thursday, 6 a.m.-midnight Friday, 8 a.m.-midnight Saturday and 8 a.m.-10 p.m. Sunday.
Founding memberships are available for $125 for the first three months, which includes one free lesson, a sweatshirt and a founding member bag tag. After that, memberships are $250 a month for unlimited play. Lessons from golf pros are available starting at $55.
Other activities are scattered throughout the space.
Three ping pong tables in the center of the venue are surrounded by nine high-top bar tables with seating for 28. Pool and foosball tables are available, too, along with shuffleboard. Four Duckpin bowling lanes will open this fall, according to Hayward.
The Detroit Five Iron Golf includes three bars, including a main bar near the entrance with seating for 13 and eight beers on tap. A selection of cocktails, wine, hard seltzers and bottled beers is available, too. The food menu includes wings, soft pretzels, salads, flatbreads and sandwiches.
There's a bit of Detroit flavor sprinkled in the lounge, with large, colorful floor-to-ceiling murals paying homage to local music legends Aretha Franklin and Stevie Wonder.
Five Iron Golf Detroit General Manager Jason Sproat said the venue offers something for everyone.
"We are thrilled to officially open our doors in Detroit, and to bring the unique Five Iron Golf experience to downtown," Sproat said in a statement. "Five Iron Golf Detroit is the downtown spot with a new way to play and party."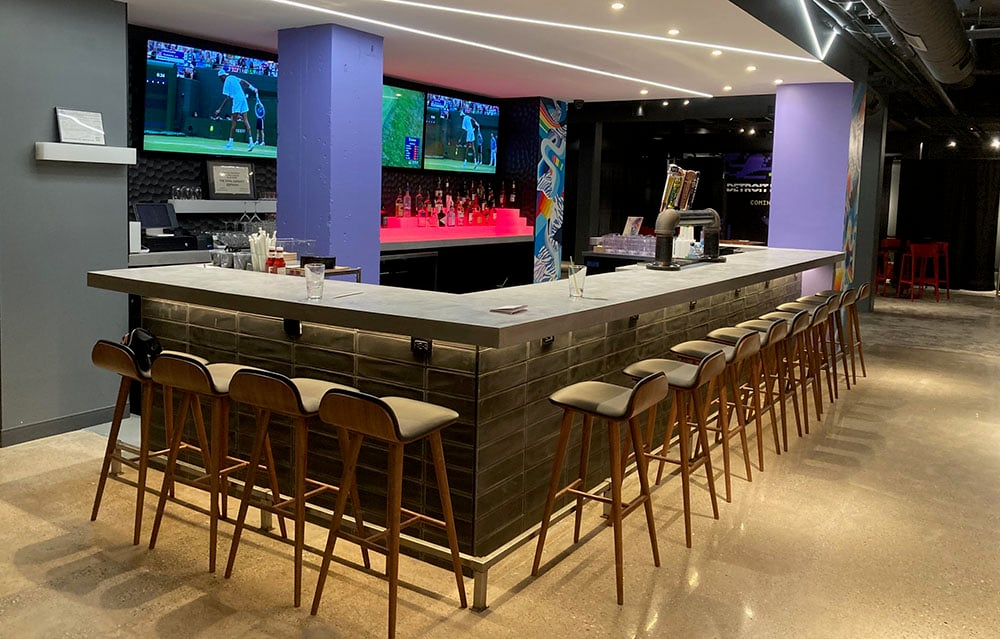 The new Five Iron Golf will have a staff of 25, according to Heckler. He did not disclose the investment into the space or terms of the company's lease.
The business is performing well, though, exhibited by golf giant Callaway in November 2021 making a $30 million minority investment into Five Iron Golf. Callaway in March 2021 also merged with Top Golf.
Five Iron has opened eight new locations in the last year. It operates five locations in New York, four in Chicago, two in Philadelphia, and spaces in Washington, D.C., Baltimore, Boston, Las Vegas, Seattle and Pittsburgh. Plans call for the opening of a Cleveland location later this year.
Heckler said the growth will continue.
"We're not eyeing any places at this given moment," Heckler said, "but our expansion team is always looking for the next best spot. Five Iron isn't gonna stop growing, though."