A groundbreaking for the Cambria Portland Hotel was held Monday at the site of the 211,000-square-foot mixed-use 86 Newbury development. The hotel, which will be around the corner at 25 Hancock St., is partnering with Shipyward Brewing Co., which is in the right rear of the photo.By Maureen Milliken
A groundbreaking ceremony was held Monday for a 102-room "brewtel" that will be part of the 211,000-square-foot Bateman Partners development in the city's East End.
The focus Monday was the start of construction for the six-story, 72,797-square-foot Cambria Portland Hotel, which is being developed in partnership with Shipyard Brewing Co. next door. The hotel, at 25 Hancock St., will include two restaurants and is expected to be completed in early 2021.
The day also marked another step forward in the Bateman Partners development at 86 Newbury St., which will include 140,000 square feet of office space for Covetrus (Nasdaq: CVET), as well as a large pharmacy, labs and technical fulfillment space, and four levels of parking with 372 spaces.
"This didn't happen overnight," Fred Forsley, founder of Shipyard, told those gathered in the brewery for Monday's event. "In fact, it's probably been 25 years in the making."
Cambria Hotels has 45 properties, including seven built in 60 days this summer, said Joseph Caradonna, of Koucar Management LLC and Janis Cannon, senior vice president of upscale brands, Choice Hotels.
Michigan-based Koucar Management is developer of three other Cambria hotels besides Portland's. Cambria is a brand of Rockville, Md.-based Choice Hotels (NYSE: CHH).
Both Caradonna and Cannon stressed the hotel, while one of many new ones either recently opened, being built or planned for the peninsula, will be focused on the community.
"Portland is a town that's true to itself and its roots," said Caradonna. He said the hotel isn't just for travelers, "but we want it to be a home for everyone to come and enjoy."
Cannon said that the finished product will have a "sense of place, sense of place."
"We're coming to build a Portland hotel in Portland, that happens to be a Cambria," she said. "We promise we will be good guardians and good stewards."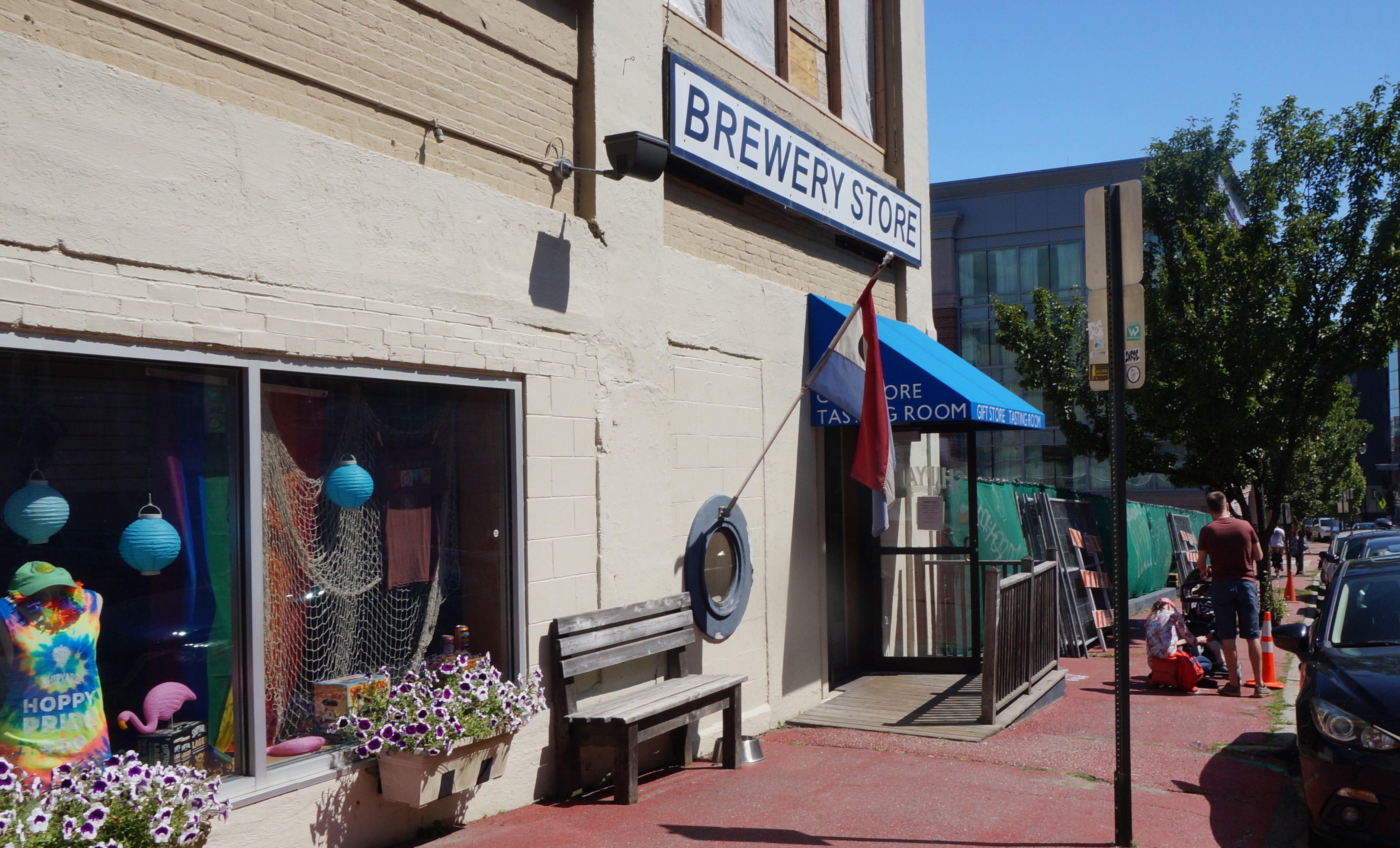 PHOTO / MAUREEN MILLIKENShipyard Brewing operates a tasting room and gift shop out of its space on Hancock Street. A 102-room Cambria Hotel is being built next door, at 25 Hancock St., where the green fencing is.
'In good company'
Cannon said part of that focus on the city is the partnership with Shipyard, which is "the right sponsor, the right partner."
Greg Mitchell, Portland's economic development director, said that 27 million visitors come to Maine every year, 25% of them stopping in Portland. "Portland is a destination," he said.
The Newbury-Hancock project is infill that works for the city's evolution.
"Ten years ago there were a lot of vacant lots surrounding Shipyard," he said. He cited WEX, Covetrus, and other businesses and developments that have come to the neighborhood in "a handful of short years."
The Cambria/Shipyard project "is in good company," Mitchell said.
Shipyard, which moved its brewing operations to Read Street last year, will also have a demonstration brewery in its remaining building on Hancock Street, which also has a tasting room and gift shop. The brewery that stretched along Newbury Street was torn down earlier this year to make way for the development.
The upper floors are now part of the Covetrus project, including its pharmacy and fulfillment unit.
COURTESY / CHOICE HOTELSA rendering of the under-construction Cambria Portland Hotel, at 25 Hancock St. Shipyard Brewing Co.'s tasting room and gift shop are to the left.
2020-21 completion dates
The hotel will have an indoor-outdoor rooftop bar, overlooking a garden growing real hops and a craft beer selection provided by Shipyard, and menu with selections from chef Fabio Viviani "featuring locally sourced, freshly made food."
The garden will actually be an environmentally friendly "green roof," with rooftop plants and green spaces, an outdoor multi-use courtyard, 2,000 square feet of flexible meeting and event space.
The total area of the Bateman Partners development takes up most of the block bordered by Hancock, Newbury, Mountfort and Fore streets. The only building on the block not part of the project is the Residence Inn on the corner of Fore and Hancock.
The development also includes 10 residential units in three buildings on Newbury Street.
Much of the project is expected to be completed next year, with the hotel ready for occupancy in 2021.
AlliedCook Constriuction, of Scarborough, is the contractor for 86 Newbury. The development was designed by Archetype Architects, of Portland, who also designed 0 Thames a block away, the new headquarters of WEX.
Machias Savings Bank spearheaded the financing on the Cambria/Shipyard project.